Car Wreckers Christchurch, Canterbury
At ANZ Auto Wreckers – we are intending to offer the best Vehicle Wrecking Services since 1985. After getting thousands of feedback's from our regular customers, we have decided to offer the free car removal services throughout the Canterbury. We also have a target of providing quality used parts for all the Christchurch people. Imitate to a Code of Ethics and Commercial Observes, giving customers sureness and peace of mind. Get more information about Second Hand Auto Parts.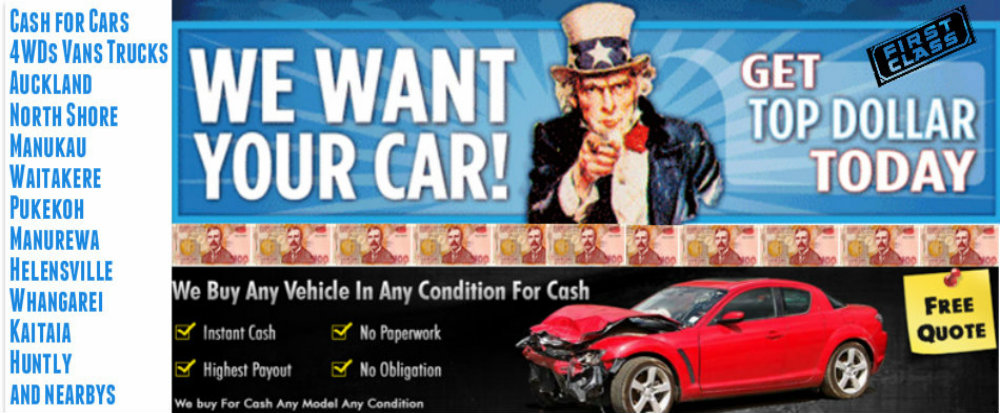 We buy Cars, Vans, Jeeps, Utes & Trucks – 4×4 Wreckers
ANZ Christchurch auto dismantlers  are offering outstanding Wrecking services from South Canterbury to Central and North Canterbury. Our truck auto Wreckers team have almost covered all the Christchurch and Canterbury regions for the free removal services. Check out Cash for Cars Christchurch. However, some of regularly serviced city and towns are as follows:
Inner suburbs – Fendalton, Spreydon, Beckenham, Richmond, Edgeware, Mairehau, Waltham, Bryndwr, Merivale, Opawa, Avonside, Papanui, Woolston, Somerfield, Shirley, Strowan, Phillipstown, Upper Riccarton, Linwood, Burnside, Dallington, St Albans, St Martins, Addington, Ilam, Sydenham and Riccarton.
Outer suburbs – Cashmere, Russley, Hillmorton, Redwood, Avonhead, Broomfeild, Ferrymead, Brooklands, Westlake, Southshore, Casebrook, Spencerville, Westmorland, Bromley, Hornby, Bishopdale, Bowenvale, Northwood, Redcliffs, Hyde Park, Heathcote Valley, Harewood, Oaklands, Northcote, Hoon Hay, Moncks Bay, Styx Mill, Groynes Park, Hei Hei, Huntsbury, Clifton, Belfast, Hillsborough, Middleton, Regents Park, Mt Pleasant, Aidanfield, Sockburn, Richmond Hill, Wigram, Yaldhurst, Sumner, Kennedys Bush, Murray Aynsley, Islington, Halswell, Scarborough Hill, Wainoni, Waimairi Beach, Prestons, Avondale, Marshland, Queenspark, South Brighton, Parklands, Aranui and North New Brighton.
Free Auto Removal in Christchurch – Canterbury:
We are committed to remove the vehicles throughout the Christchurch and an immediate regions. By any chance if we have missed to mention any city or town, then feel free to give us a call and confirm your location today. Get a cash quote today from Auto Wreckers Christchurch and take the advantage of our fast and responsive services.
If you are living anywhere around Bromley then check out our Car Wreckers Bromley page for more details.
All makes and models in any condition vehicle we buy:
We have been dealing with all the major brands like Japanese, American, European and Australian etc. If you have any question about your brand, then feel free to give us a call and we will confirm you. Generally, we buy everything any make and models. Don't worry if your vehicle is broken or without warrant of fitness. Wreckers Christchurch can remove your vehicle for free of cost and pay you money on the spot. Call us now to find out how much your vehicle worth? 0800 227 973
Get the top cash for all major brands like Nissan, Holden, Mitsubishi, Ford, Daewoo, Hyundai, Ssang, Kia, Hino, Isuzu, Suzuki, Hiace van, Toyota Corolla, Bighorn, Mazda, BMW and Mercedes etc. Check out Toyota Wreckers Auckland for more details.
More Information
Wikipedia information about Car Wreckers
List of vehicles we buy
Car Wreckers Linwood Phillipstown, Christchurch